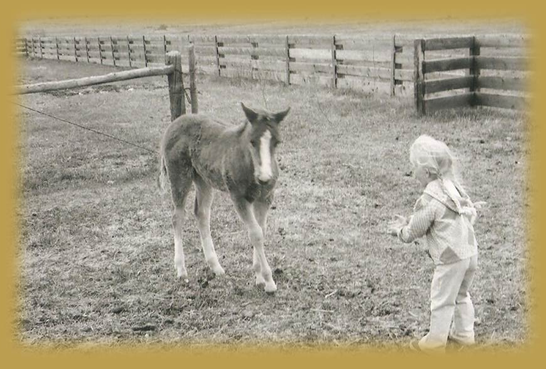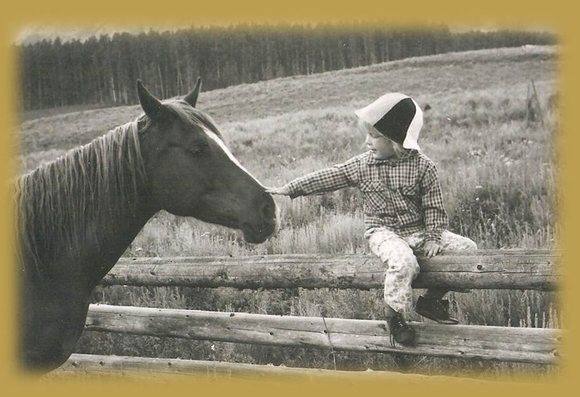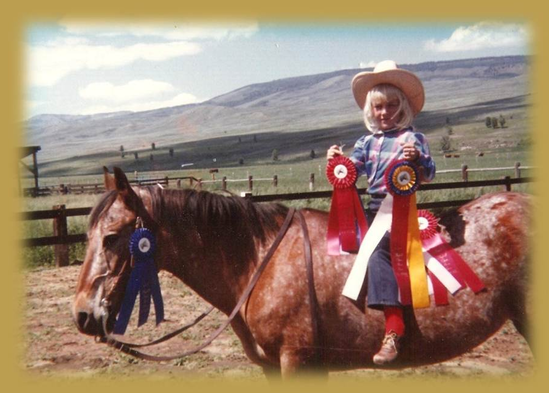 I grew up in the small, ranching town of Gunnison, Colorado. I have always considered it a privilege to have been raised in the country, away from a crowded city and
immersed
in the hard work and rewards of ranch life.
Besides the day to day chores of my parents place, I spent nearly 10 years in 4-H, raising livestock and showing horses. I raised my own sheep for most of that time sometimes lambing out 10-15 ewes every spring. Spring was a favorite time of year. There was something magical about watching new life enter the world, from a set of triplet lambs to a litter of 20 or more pigs my brother raised at the time. An occasional calf and then then there was the foals, one every couple years for the better part of my child hood.
As I recall, the first foal born on my parents place was a little colt we named "Friday", rightly so…he was born on Good Friday to an old mare we called "Rosie." I remember the morning like it was yesterday. A cold spring day, I was home from school when they used to give kids the day off for important days like this. I was 5 at the time and already horse crazy. I remember racing out to the barn before anyone else had a chance to get out the door. My discovery of the new little colt would be forever etched in my mind. There he was, barely able to stand, wobbly and still wet, a velvety nose covered in crooked white whiskers and a white blaze that ran the length of his face. To this day, there is still nothing like the sight of a new born foal. And so began my life- long passion for horses. Little did I know that God had given me a gift with horses that would become an enormous part of my adult life.
I credit my parents for having the wisdom to put me on good horses, already trained, of sound mind, the been- there, done- that sort, usually someone's retired ranch or 4-H horse.

"Stardust" was my first horse, a small appaloosa mare that had already seen her share of years. Stardust was that kind of horse, gentle and kind. She was hard to catch and stubborn to trailer load (how I wish I knew what I know now). Besides her quirks, that little horse would give me a wonderful foundation in the world of horsemanship. Then there was "Chico" (it means small one). He was a big, 16 hand appaloosa gelding, as bombproof as a horse can be. He saw me through many years of competition as a young girl. Others would follow, but they all had one thing in common. They were solid horses with good foundations, lots of miles and they knew their job well enough that they were able to teach me a great deal about what a nicely trained horse should feel and act like.
Besides my parents forethought to put me on safe, dependable horses... they also realized the value of giving a horse crazy young kid the benefit of regular lessons. I started taking lessons when I was 4 years old. By then I had already had my fair share of time in the saddle either sitting in front of Mom or Dad or lots of time on the end of a lead line. My lessons continued until I was 17 on different horses, at different levels of training, English, Western, jumping and lots of bareback. I had three different riding instructors throughout those years. To each I feel indebted to, for their hard work and dedication to my dream of becoming a great horsewoman. Each lady was there for me through different stages and levels of experiences.

By my early teens I was more than ready for a bigger challenge with horses than the quiet, broke type that had already taught me so much. Good horses gave me a good foundation, lots of knowledge and confidence. I was ready to train my own horse. I knew what a good horse looked like, felt like. I understood horse behavior. I had a good handle on concepts like respect and trust, and I knew how to control a horse from nose to tail and in what order to start with. Now, I needed a horse.
I entered a writing contest put on by an Arabian breeder in Platteville, Colorado. I have always had a knack for putting words together and expressing thoughts and ideas on paper. I guess it paid off, because at the age of 14 I was the proud owner of a two year old Polish Arabian gelding. My preference anymore is for Quarter Horses, but this little guy would prove to be just what I needed as I started into the world of colt starting. He would also be the first of several hundred young horses that I would start, finish or trouble shoot for people over the next 20 years.

In my early years as a trainer, I worked with anything I could get my hands on. I took on horses from neighbors, local ranchers, family friends and of course my own family's occasional young horse. No opportunity was missed to gather knowledge and experience with horses.

Throughout my early childhood and clear through high school, I competed regularly, mostly local and open shows. The competitive world of horses has never held my interest. I believe I am drawn to horses for much different reasons than most.

I am very artistic by nature, drawn to the outdoors and so very fond of God's amazing creatures from horses to sea life. I enjoy the beach and snorkeling as much as I enjoy hiking and camping in the mountains. My interests are heavily wrapped up in music, art, photography, and writing. There is nothing better than capturing God's creation through the lens of a camera, the end of a pencil, or the melody that He inspires in my heart through music. I played the violin for a number of years as a little girl and would love to try it again if time would allow.

With all that said, it's not hard for me to understand why training horses has become such a big part of my life. For me training horses is an art form, no different than creating a masterpiece on a blank canvas that bears my signature. When I am finished with a young horse, I have something priceless (better than any belt buckle, trophy or blue ribbon). I have a willing partnership, created with the talent God gave me, and inspired from a passion for perfection with horses . It is a physical picture of freedom, harmony and grace. Each horse is a blank sheet of paper and a unique privilege to create something from nothing.

In 2000, I graduated from Colorado State University with a Bachelor of Science in Equine Science. During college I continued to embark on my horsemanship journey and my quest to truly understand horse behavior and psychology.

I interned for a Cutting horse trainer for the better part of a year where I started and worked with dozens of young horses, from brand new colts to seasoned show horses. An entire winter break was spent in Utah working for Quarter Horse breeder and judge. In the short span of just 4 weeks I broke in several more two and three year olds, and gentled a handful of unruly weanlings. I spent a summer as a wrangler in the mountains of Crested Butte, CO and still part of another summer working for a Reining trainer in Texas. My first job out of college would take me to Germany where I worked for a Reining and Western Pleasure trainer. From there I went to Indiana and then to California for a short time. No matter where I found myself, there was no shortage of horses from which to gain experience. By the time I had graduated from college and traveled the United States and Germany, I had a couple hundred horses under my belt.
I have often been asked who my best teacher was. You can learn something from everyone, even if it was not to do. I learned many valuable lessons from the trainers I worked for, but honestly, the horse is, and will always be my best teacher. There is no single method from which I train. I have learned many great techniques from different clinicians and trainers. I have combined it with my own life time of experience starting hundreds of colts. Each horse is unique and will teach you something new. I will never know it all and I'll never quit learning. There is always another level of horsemanship to strive for.

With that said, in recent years I spend many hours, sometimes daily, watching training videos from well-known and respected trainers and clinicians, attending clinics, and video-taping my ground work and rides, in efforts to continually better myself self as trainer, instructor, clinician and business woman.
One year out of college, I found myself at a very different crossroads in life. Many of the training jobs I had were lessons in what NOT to do, to horses and to people. I worked brutally long hours, sometimes 6 or 7 days a week. In some cases, my employers were harsh, cruel, and their treatment of me sub-human at best. I found myself tiring of working for people in the horse industry and I needed a change of scenery.

For the better part of the next year I found myself taking other jobs. For a season, I worked for the Forest Service on the trail crew. After that I took my horses and moved to Lincoln, Montana. There, I worked a much more laid back job on a friends ranch sorting and cows, fixing fence, and other manual labor. I continued to work my own horses and took a handful of colts from trusted friends but more than anything, I gave myself a chance to breathe, to rest, and look to the Lord and to what He might have for me next. Horses just didn't have the draw for me anymore. I was burnt out and soured by all the negativity I had experienced just trying to learn and grow as a horsewoman.
Rewind back to the summer of 1993, my freshman year of High school, God was on the move, but I didn't know it until 9 years later. That summer I met a young man, my age, visiting from California and working for a friend of my family. Brian and I spent the next two years writing back and forth, nurturing the strong friendship that had blossomed over that summer. The correspondence would end as I realized that Brian would not be coming back to Colorado. My interest gravitated else- where and college loomed ahead as did the overwhelming urge to pursue a career with horses.

Fast forward nine years. My brother was fresh out of flight school and pursuing a job in Southern California. Brian's name resurfaced as my brother, Matt, and Brian were also close friends back in 93'. I drove to California to help my brother move, but with an ulterior motive in mind, to see and finally be able to talk with a child-hood friend. Before I even made the trip, I already knew that God had brought the two of us back together, but this time it was for good.

We were married in June of 2003 6 months after Brian proposed on the deck of my parent's old cabin. The cabin stands at the base of Gunnison's Ohio peaks, overlooking the "Castles", one of the prettiest spots you will ever see. It was the exact spot I had always wanted to be asked. My Mom told me sometime later that she had prayed all those nine years that God would see it fitting for Brian to be my husband. The Lord ignited an eternal spark between Brian and I back in 2003, but He also reignited another one. The passion for training horses was back and I have been blessed beyond what I deserve to have such a Godly man in my life that has been such a faithful, steadfast and instrumental part in making Higher Ground Horsemanship a reality.

We decided to make our home in Montrose, Colorado where the weather was conducive to training horses year round. With the Lord's help and guidance we found 10 acres of pasture land situated in one the prettiest valleys in the area. It is now the proud home of Higher Ground Horsemanship. We started with bare land. Almost 10 years later and a whole lot of hard work, patience, perseverance, and trust in Lord, we have created a place where people and horses from all walks of life come and experience horsemanship at its best and know that they and their horse will receive an excellent standard of care.
In October, 2009 I welcomed my little girl into this world. Jessica is a true gift from the God. She shares her mother's passion for creation and critters of every kind. She has given me a unique perspective on life that I would never have without her and an extended appreciation for all the valuable lessons I have learned throughout the years working with horses. Key concepts like patience, consistency, praise, reward and discipline have so many parallels to raising a child. I have often considered writing a book entitled "Raising Kids and Training Horses", but for now it is only a thought, as the demands of a little one and a full time job as a trainer and instructor keep my more than busy. There would certainly be a lot to write about though.
A good friend and client of mine once told us that our place is a "progressive, looking down the road facility." I could not agree more. From its humble beginnings to a full- fledged equine facility, Higher Ground Horsemanship has become everything I had ever hoped for and more. We can now fully cater to the growing needs of the equine community with professionalism and customer service wrapped up in everything we offer from horse boarding to Horsemanship Clinics, lessons and training.

With all that said, Higher Ground Horsemanship is about so much more than meets the eye. It is about a way of life and a standard of excellence with horses and in life. Higher Ground Horsemanship is a story of God's grace and constant provision. It is proof that with dedication, consistent hard work, a dream and a lot of prayer, anything is possible. It is God's story, with new chapters being added all the time and I am blessed to be a part of it every day.

The story will continue…..by the grace God gives. . It is about the journey, not the destination. As I continue the journey, my prayer is always to give God the credit, the glory and the praise that He so rightfully deserves. He has given me so much and I hope as I work with and help horses and the people who love them, I can honor and glorify Him in all I do. Higher Ground Horsemanship is about daily riding and striving for Higher Ground.